Compounding is our passion. We take great pride in making medications to fit the individual. Customized hormone replacement is a perfect match with compounding pharmacy because women's needs vary greatly and a one size fits all approach is not very effective. We work directly with your physician to evaluate your hormonal needs, formulate a custom blend for you, and adjust as needed for your personal hormonal balance. Balance is the key to being your best. Life has ups and downs and when your hormones are out of sync, the highs aren't as joyous and the lows are that much worse. When you are balanced, you have a much better chance of dealing with the lows and enjoying your blessings. We want to be a part of your success story!

Jean Beamer is co-owner of Andrews Apothecary and is married to Jerry. She is the buyer for the retail gift shop. Jean graduated from UNC-Chapel Hill with a degree in voice performance. She also studied at UNC-Greensboro and taught choral music and theatre for 12 years. She sang professionally with Bel Canto in Greensboro for five years and recently participated in their first ever virtual community choir! She and Jerry have three awesome adult children and one awesome daughter-in-law! Her favorite thing about her job is overhearing customers' reactions when they laugh out loud at some of the unique and humorous gift selections at Andrews Apothecary!

Jerry Beamer, RPh, loves problem solving and if he had to pick, would go with the methimazole ear prep that we make for cats as his favorite. "Just knowing that cat owners are going to be able to get this needed medication into their animal by easily rubbing into their ear without fear of being clawed or bitten is very rewarding!" Jerry graduated from UNC-Chapel Hill in 1984 with a pharmacy degree and counts himself blessed to have Jean as his wife along with their 3 children, Amelia, Garland, and Colin. But, "nobody loves me like Gracie, our Australian Shepherd!".



Mike Blankenship, PharmD, graduated from Campbell University School of Pharmacy in 2003. He plays in two bands, races bicycles, and shares a home with his wife, Amanda Rose, and their three dogs. In his spare time Mike enjoys music, reading, and spending time in the woods. His favorite compounds are anything requiring many steps, preferable heavy on the math!


Katie Matthews, PharmD, is a graduate of the UNC School of Pharmacy. Katie lives with her daughter, Carson, their dachshund fur babies Wild Earp, Rosalina, and Scarlett; and numerous chickens and ducks on their new farm. In her free time, Katie enjoys horseback riding, attending concerts, going to the beach and off-roading in her jeep, "Stella"! Katie's favorite part about being a compounding pharmacist at Andrews Apothecary is helping patients to find an alternative solution to their treatment options.


Angela Bateman
Angela Bateman, CPhT, is in charge of data entry. She has two children, Taylor and Jackson. She enjoys running half-marathons, watching football and cooking. She and her husband Dwayne have a houseful of animals in Stoneville that drive them crazy! Angela loves to feed the wild animals outside and view them up close. She is working towards becoming a licensed wildlife rehabilitator. "I love knowing that what we do here at Andrews Apothecary saves human lives and God's beautiful animals." Angela also loves working with friends who feel like family.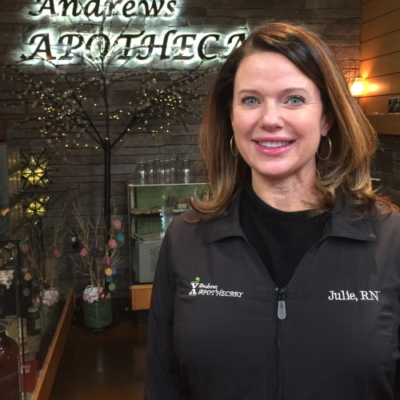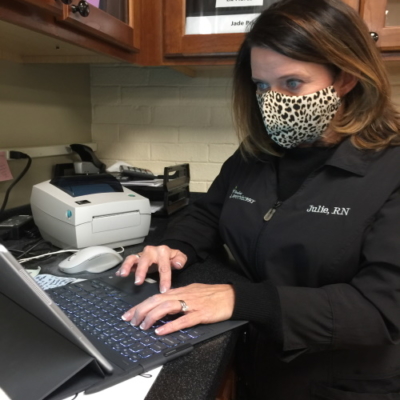 Julie Berrier
Julie Berrier, BSN is originally from Mt. Airy, NC and graduated from UNC-Charlotte with her Bachelor of Science in Nursing. After working in a clinical setting for many years, she transitioned to Andrews Apothecary to lead their PCAB accreditation program. In her free time she enjoys cheering on the UNC Tarheels and traveling to tropical destinations for scuba diving with family. She has a two year old chocolate Labrador Retriever, Otis, who enjoys the water as much as she does. Her yellow tabby cat, Poppy, owns the house and is kind enough to allow the family to live there. She is the Quality Control and Compliance Officer for Andrews Apothecary. From Julie, "I love my job and most of all, the people I work with. We all strive to find the best possible solutions for our clients and pets."
Jade Price

Jade Price, CPhT, is a certified pharmacy technician from Elkin, NC. She now lives in Winston-Salem with her husband, Kalib; two Aussies, Mela and Gonzo; and her cat, Platypuss. Her favorite pastimes are kayaking and rock hunting, and helping her husband to remodel their 1920's farmhouse. Jade's favorite thing about Andrews Apothecary is learning! "I am so truly grateful to be a part of this phenomenal team. I learn something new every day from these amazing professionals!"

Mary Ellen Watson is a pharmacy technician with a background in music therapy who is happy to call Winston Salem her home town. After graduating from ASU in 2001, she moved back to the city of arts and innovation, where she proudly started a second career as a member of the compounding staff at Andrews Apothecary in 2013. When she's not busy making custom capsules, Mary Ellen can be found playing her violin-either as a long time member of Western Piedmont Symphony in the beautiful NC mountains, or as part of the vibrant downtown arts scene right here in Winston Salem.
Lucas Prichard

Lucas Prichard, PhT, is a pharmacy technician here at Andrews Apothecary. He is originally from Greensboro. In his free time he enjoys reading, cooking, and traveling to new places with his wife, Courtney. Together they have a dog, Nikki, and a cat, Sarabi. Lucas loves his job and enjoys doing something that makes a difference in the lives of both people and animals. "I like that what I do here feels important and may actually make a difference in someone's life. Being here is a humbling experience. It has helped me to count my blessings every day."
Austin Martin

Austin Martin is a familiar face at Andrews Apothecary. We are thrilled to have Austin back as a Pharmacy Technician. Austin worked here for 3 years before leaving for the military. Originally from Lexington, he currently lives with his girlfriend in Kernersville. In his spare time, Austin enjoys tabletop gaming. He is glad to rejoin our team and feels like this is a place where his colleagues are receptive to listening to him. "Honestly, it feels like a home."
Brenda Quiroz Catalan

Brenda Quiroz Catalan, from Lexington, is a Certified Pharmacy Technician. Brenda recently graduated from the DCCC Pharmacy Tech program. She worked here part-time while she was in school. We are so happy to now have her fulltime! When not at work, Brenda enjoys reading, family time and travel. "Everyone here is very supportive and encouraging. It feels like home!"
Joanna
Joanna, a graduate of Appalachian State University, is the face of Andrews Apothecary. She was recently promoted from lab assistant to out-front retail manager. Joanna is likely to be the first person you'll see or speak with. She is in charge of customer relations, maintaining our gift shop and OTC area and helping to buy merchandise for the gift shop. She enjoys finding cute and unusual items to offer there. Joanna also loves the satisfaction of helping customers with their individual healthcare needs.