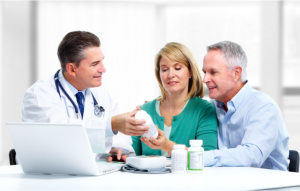 Your hormone consultations with Jerry Beamer is $75.  There is a money back guarantee that you will be satisfied with the information that you receive during the consult.  Here is what is included in your personal evaluation:
a questionnaire that gives us insight into your situation
once Jerry receives your completed questionnaire, he will review the information and contact you about getting together by phone (usually) or in person at your convenience for your evaluation.
a detailed discussion of what your answers on the questionnaire tell us
your life stage will be a topic and we will talk about why you probably feel like you do
stress is a factor and you will gain insight into how and why and steps you can take to help
thyroid function is important in life and can be a problem and we will talk about this
specific options for you will be discussed
in the end, Jerry will contact your prescriber for approval of a hormone regimen that has been designed for you. You will be asked to gain approval from your prescriber for Jerry to fax his recommendation (this involves your calling their office and explaining that you are interested in using Bio-Identical Hormone Replacement and that you have spoken with Jerry Beamer, compounding pharmacist, about this.  You are asking for permission for Jerry to fax over a recommendation.  Of course if you were referred to Jerry, this step will not be needed.
upon approval by your prescriber, we will custom blend your formulation and contact you.  From there, you will have the option of picking up or having us ship to you.
Jerry and his staff will be available to you along the way as we move towards hormonal harmony as our goal.
Click here and let us know that you are interested in a hormone consultation and we will guide you thru the process.