What are compounded medications and does it matter if the pharmacy is accredited?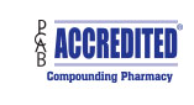 Most people would describe the medication they take as being made by a drug manufacturer in manufacturing plant or factory. In fact, this is correct for the majority of prescription medications. Sometimes though, manufactured medications cannot meet the needs of some patients. Examples of these situations include:
A child needs a medication in a liquid form, but it only comes as a capsule.
A patient needs a medication that is no longer manufactured.
A patient needs a dose that is not manufactured.
The commercially available product is not available.
A patient is allergic or cannot tolerate an ingredient in a manufactured product.
A pet needs a medication flavored so that they will willingly take it.
Where do compounded medications come from?
Compounding is the mixing of drugs by a compounding pharmacist. Pharmacists prepare compounded drugs in a licensed pharmacy.
Pharmacies vary in the training, skills and capabilities of their staff; whereas a particular pharmacy may be able to prepare one type of compound, it may not be equipped to prepare another type. For example, not all pharmacies are equipped or trained to prepare sterile compounds. If a patient needs a sterile injection, they will need to work with a pharmacy that has the expertise and equipment to do sterile compounding.
Why get compounded medications at a PCAB Accredited Pharmacy?
While all pharmacies must meet licensure requirements, PCAB accredited pharmacies have gone the extra mile to demonstrate that they comply with nationally accepted quality control, quality assurance and quality improvement standards. This helps assure that the patient receives a quality medication.
In order to demonstrate compliance with PCAB standards and earn PCAB accreditation, pharmacies voluntarily participate in an evaluation process that includes:
verification by PCAB that the pharmacy is not on probation for issues related to compounding quality, public safety or controlled substances.
verification that the pharmacy is properly licensed in each state it does business in.
an extensive on-site evaluation by a PCAB surveyor, all of whom are compounding pharmacists trained in evaluating compliance with PCAB's quality standards.  This evaluation includes:

An assessment of the pharmacy's system for assuring and maintaining staff competency.
A review of facilities and equipment.
Review of records and procedures required to prepare quality compounded medications.
Verification that the pharmacy uses ingredients from FDA registered and or licensed sources.
Review of the pharmacy's program for testing compounded preparations.
Only when a pharmacy has met PCAB's rigorous standards, is accreditation issued.
PCAB accreditation means the pharmacy has independent, outside validation that it meets nationally accepted quality assurance, quality control, and quality improvement standards. When choosing a compounding pharmacy, PCAB suggests looking for the designation "PCAB Accredited® compounding pharmacy" or the PCAB Seal.
Who are PCAB's Board of Directors?
Seven prominent pharmacy organizations serve on PCAB's Board.
American College of Apothecaries
National Community Pharmacists Association
American Pharmacists Association
National Alliance of State Pharmacy Associations
International Academy of Compounding Pharmacists
National Home Infusion Association
United States Pharmacopeia
Andrews Apothecary is proud to be fully accredited by PCAB in sterile and non-sterile compounding. You deserve the very best and we are so pleased to be able to take care of your compounded prescriptions needs.